SMDC Twin Residences is the soon to rise shining high-rise tower and a vibrant mixed-use development located along Alabang-Zapote Road, Las Pinas City.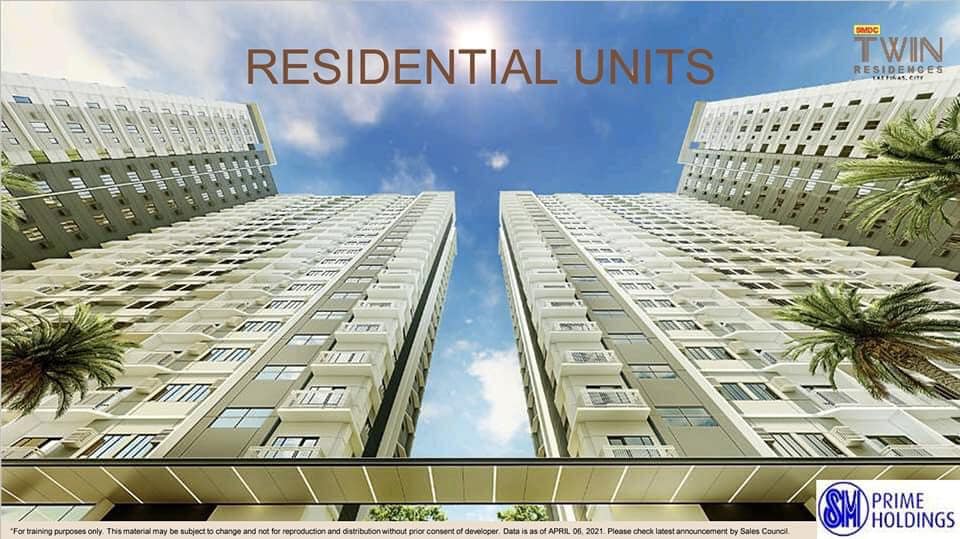 Talon Uno Alabang-Zapote Road, Las Pinas City
Tower 1 1203 | Tower 2 1203

Three (3) Passenger Elevators and One (1) Service Elevator Per Tower
Three (3) Fire Exit Stairs Per Tower
Automatic Fire Sprinkler System
Centralized Mailroom Per Tower
Centralized Garbage Collection & Disposal System, including MRF
Standby Emergency Power For Common Areas
Meralco Power Supply
Maynilad Power Supply
CCTV Coverage at Site, Podium Floors, Amenity Areas and Residential Floors
24/7 Security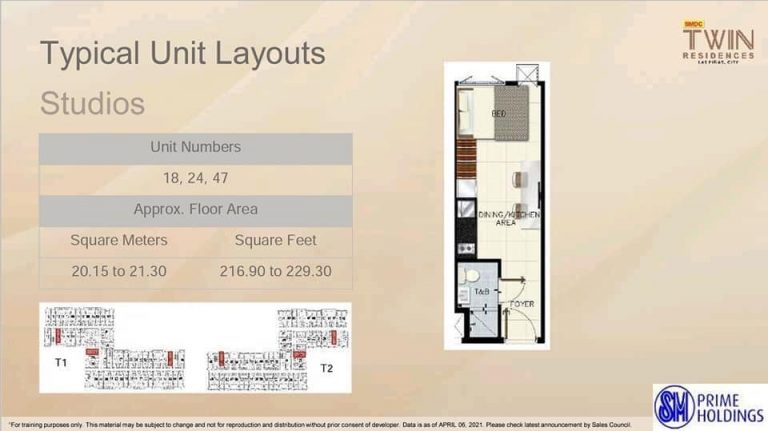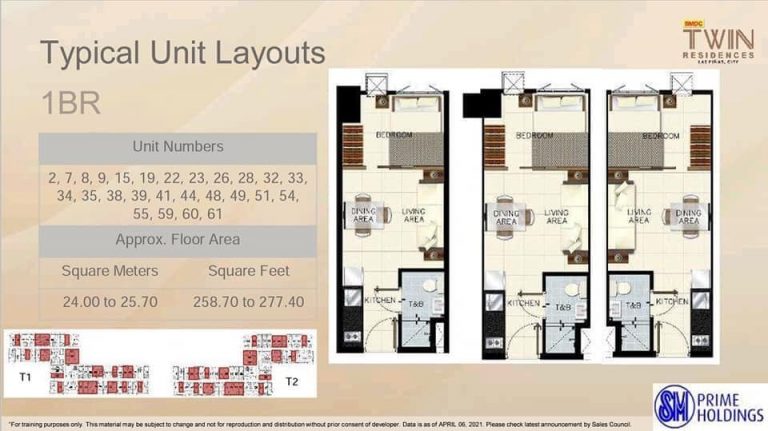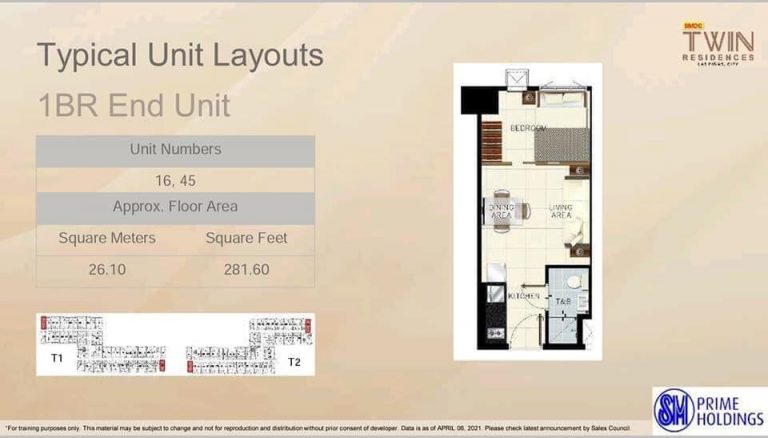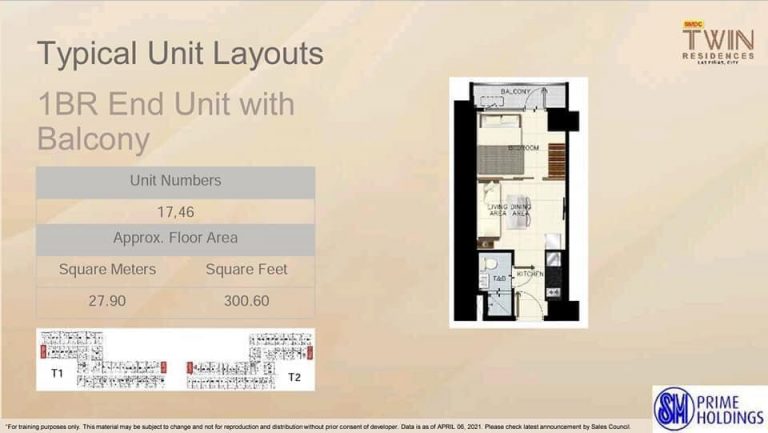 Interiors Walls : Painted Finish
Toilet & Bath : 1.8m High Tiles at Shower Area 
Main: Fire Rated Laminated Wood Door
Bedroom/s, T&B, Laminated Wood Door
Aluminum Casement Windows
Water Closet, Lavatory, Soap Holder, Tissue Holder, and Shower Fixtures
Granite Countertop and Splashboard, and Sink with Faucet
Overhead and Base Cabinets
Balcony ( if applicable )
Aluminum Glass Door | Homogeneous Tiles | Painted Metal Railing

WHY INVEST IN THE PHILIPPINES?
The Philippine Economy's strong fundamentals will assure sustained economic growth past the health crisis.
Continuous inflows of remittances expected to grow by 7% in 2021.
In a demographic sweet spot- increasing young competent young and reliable resources which translates to strong local consumption.
Booming infrastructure development for inclusive growth. Several operating economic zones and IT parks today, offering tax incentives, and equipped with support capabilities.
Critical entry point to over 600 million in the Asean Market and natural gateway to the  East Asian Economies.
Infrastructure projects expected to boost property values.
Steady increase in property and rental values.
Significant Real Estate demand from Overseas Filipinos, local buyers, and foreign investors.
Strong-long term and short-term rental demand from local workforce, expats and local & foreign tourists.
Local housing backlog of more than 6M.

Strategically located along Brgy. Talon Uno, Alabang-Zapote Road, Las Pinas City.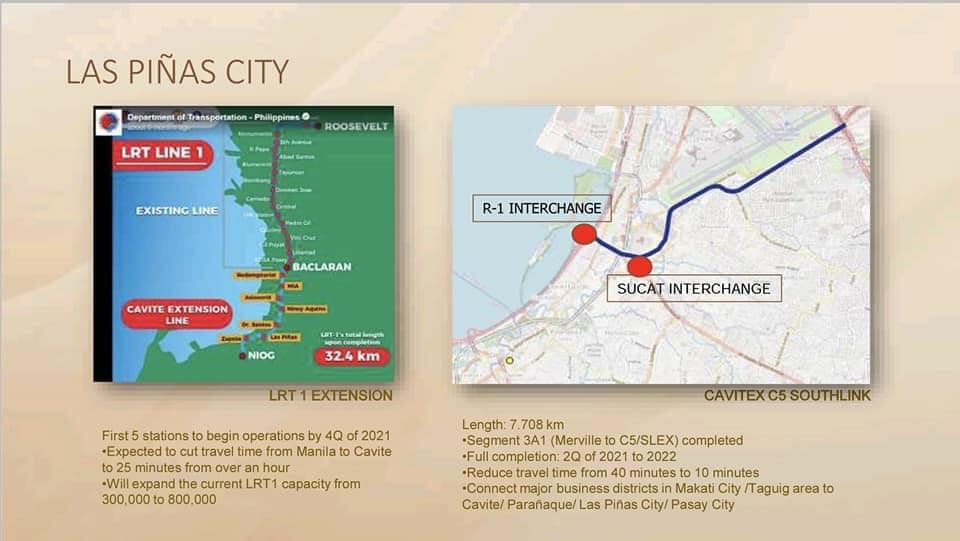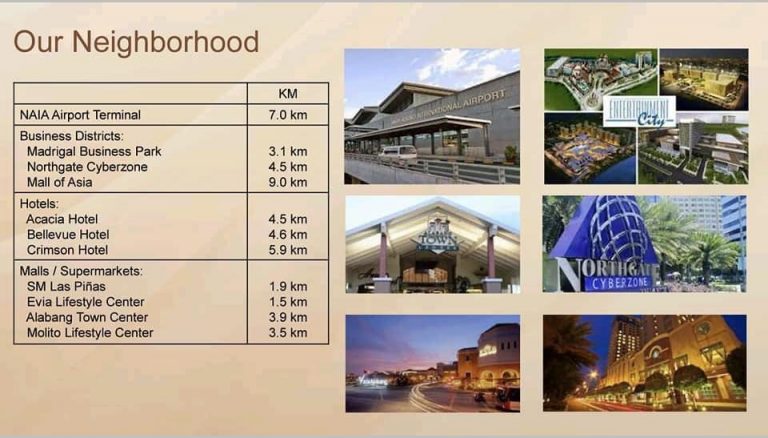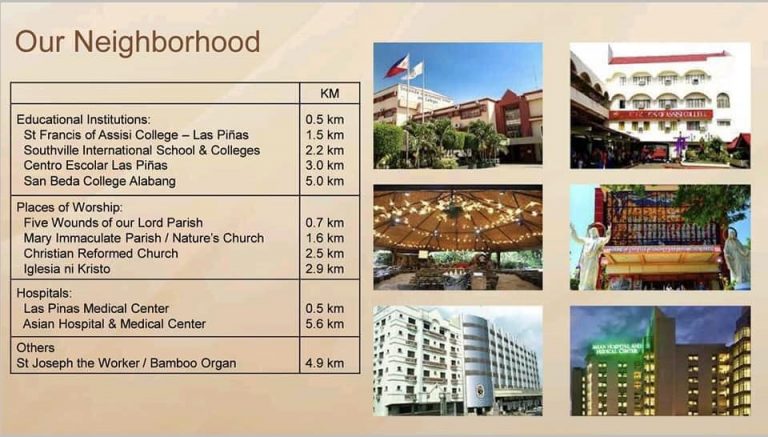 Investing a unit at SMDC Twin Residences is a good decision  as it balances comfortable living in a relaxing and cool ambiance that you can enjoy.
𝑺𝑼𝑺𝑻𝑨𝑰𝑵𝑨𝑩𝑳𝑬 𝑳𝑰𝑭𝑬𝑺𝑻𝒀𝑳𝑬
Pedestrian-friendly
𝑯𝑰𝑮𝑯 𝑷𝑶𝑻𝑬𝑵𝑻𝑰𝑨𝑳 𝑰𝑵𝑽𝑬𝑺𝑻𝑴𝑬𝑵𝑻
Secures your future with maximized results
𝑺𝑻𝑹𝑨𝑻𝑬𝑮𝑰𝑪 𝑳𝑶𝑪𝑨𝑻𝑰𝑶𝑵
Commuter-friendly
𝑫𝒀𝑵𝑨𝑴𝑰𝑪 𝑵𝑬𝑰𝑮𝑯𝑩𝑶𝑹𝑯𝑶𝑶𝑫
Supports your on-the-go lifestyle.
Own a piece of Twin Residences for as low as P10,500 per month and grab this opportunity while on a lower price.