Pahara which is a Bengali term for hills was named as such due to its location within the slopes and greenscapes of the Manila Golf and Country Club.
Pahara at Southwoods City is a high-end residential community project in carrying the Megaworld brand, the development promises to deliver an exclusive and distinctive living experience, the home of growing families who seek comfort in a nature-rich setting.
Southwoods city is the newest township in the south that will rise same as McKinley Hill, McKinley West, Eastwood City, and New Port City, this township consist of Lifestyle Mall, School, BPO Offices, Commercial Establishments, Transport hubs and Residential villages and condominiums and Golf course that will sure cater to your needs as a family or as individual.
SOUTHWOODS CITY
Lifestyle Beyond The Usual 
Southwoods City is a 561 hectare township development that will soon feature residential communities and commercial strips. It is also deemed as the next big CBD.

Pahara at Southwoods City
Modern Mediterranean Architectural Fusion
Unit : Residential Lots Only

Swimming Pool
The Clubhouse
Multi-Purpose Function Area
Children's Playground
Fitness Gym
Open Spaces or Landscaped PocketParks
Approximately 340m long Jogging Path
Unerground Utilities
Color Garden
Aromatic Garden
Meditation Garden
Yoga and Reflexology garden
Jogging path
Fully-integrated community
Globally-competitive business district
Reasons Why Choose Philippines To Invest
A LEAD IN ASIA'S GAME
On the local front, the Philippines can still boast of its maintaining its 3rd spot with an average ECONOMIC GROWTH RATE of 6.28% over the past 5 years
2. ROBUST ECONOMIC GROWTH
The Philippines is now the ONE OF THE FASTEST GROWING ECONOMIESin Asia, with 6.7% growth forecast by the IMF for 2015, almost at par with China's 6.8%. Investment can still grow with the foreign direct investment (FDI) in the Philippines remains in the lower bracket among its ASEAN neighbors.
Source : globalpropertyguide.com
3. CONSUMER DRIVEN ECONOMY
Consumer spending is still the lifeblood of Philippine economy, firmly growing by 5.6% on average from 2010 to 2014 showed no sign of decay from expanding an average of 6.2% up to its 3rd Quarter.
4. STEADY PERFORMANCE
Philippines is maintained by strong investor and business sentiment sustained by manageable inflationary and interest rate environment.
5. WAY UPWARD IN ECONOMY
The Philippine Real Estate Industry is now on an upward economic growth trajectory that is certain to compete with other Asian countries such as Singapore, Vietnam and Indonesia. A gold rush in time for locals and foreigners to acquire more properties and have an outlook for WIDE OPPORTUNITIES FOR REVENUE GROWTH.
6. FLOURISHING YEARS FORWARD
The Philippines will continue to expand by 6% to 6.5% range in 2016 and 6.50% to 7.00% in 2017 with INTEREST RATES AND INFLATION GRADUALLY RISING.
7. OFW'S REMITTANCE INFLUX
With the steady growth of remittance flows from millions overseas Filipino workers, they are becoming the country's cash cows contributing huge inflow of foreign exchange earnings funding businesses and investments. ( Source : philstar.com )
8. CREDIT RATING UPGRADE
Philippines was awarded INVESTMENT GRADE BY 4 of the biggest agencies worldwide. This gives the world a safety ground to invest in the country. Moody, Standard & Poor's, and Fitch Ratings, all affirmed the Philippine's investment rating upgrade to investment grade, amidst strong economic growth.
( Source : philstar.com ) 
9. ENGLISH LANGUAGE PROFICIENCY
The Philippines is the THE THIRD LARGEST ENGLISH -SPEAKING NATION-AFTER US AND UK. A language proficiency that is key to economic globalization with English language having monopoly in worldwide medium of communication. 
10. STRONGHOLD IN BPO AND IT INDUSTRY
With its robust performance is fueled by the business process outsourcing ( BPO ) industry's expanding revenues and information technology investment's competitive tender in the country.
11. RELATIVELY LOW REAL ESTATE PRICES
Prices of real estate properties in the Philippines is more attractive with its value having HIGH POTENTIAL FOR APPRECIATION in the coming years.
12. DEMAND REMAINS STRONG
Residential real estate loans in the country soared by 25.9% y-o-y to PHP411.44 billion (US Dollar 8.76 Billion) in Q1 2015, according to the Bangko Sentral ng Pilipinas (BSP), the country's central bank. (Source: globalpropertyguide.com)
13. INTERNATIONALLY -INSPIRED PROJECTS
Foreign inspirations have huge impact in the Asian perspective of real estate. With projects, in the Philippines drawing likeness to heritage, architecture and culture of the west and other cosmopolitan countries, the country provides MORE OPTIONS AND REASONS TO SEE GREAT SIGHTS in the Philipines.
14. ON THE HORIZON FOR GLOBAL GROWTH
Philippine economy is distinguished by by a well-developed communication, transportation, business and economic infrastructure links across the nation. It is highly accessible by air, water and liberalization of inter-island shipping and domestic aviation further sparked IMPROVED FACILITIES AND SERVICES. (Source: philippine-embassy.at)
15. TOURISM BOOM
The sunshine industry of the Philippine tourism is poised for sustained growth in the coming years, benefiting the real estate industry with HIGHER DEMAND FOR NEW HOTELS, MALLS, BUILDINGS, RESORTS, GOLF COURSE and other ventures. With the country's impressive tourism growth in recent years, our tourism industry is in fraction of that of our neighbors like Hongkong, Macau, Thailand, Singapore and Malaysia.
(Main source: Through the looking glass-Outlook for 2016: PH, moving forward, by Jonathan L. Ravelas, Chief Marketing Strategist)
DISCLAIMER: The information, opinion and analysis contained herein are based on sources and data believed to be reliable but no representation, expressed or implied, is made as to its accuracy, completeness or correctness. This material is only for general information of the authorized recipients.)
A vibrant and bustling city in the freshest location at Southwoods City.
Close Proximity to Metro Manila
NAIA Terminal 1 – 30 mins
Nearest SLEX Exit – 5 mins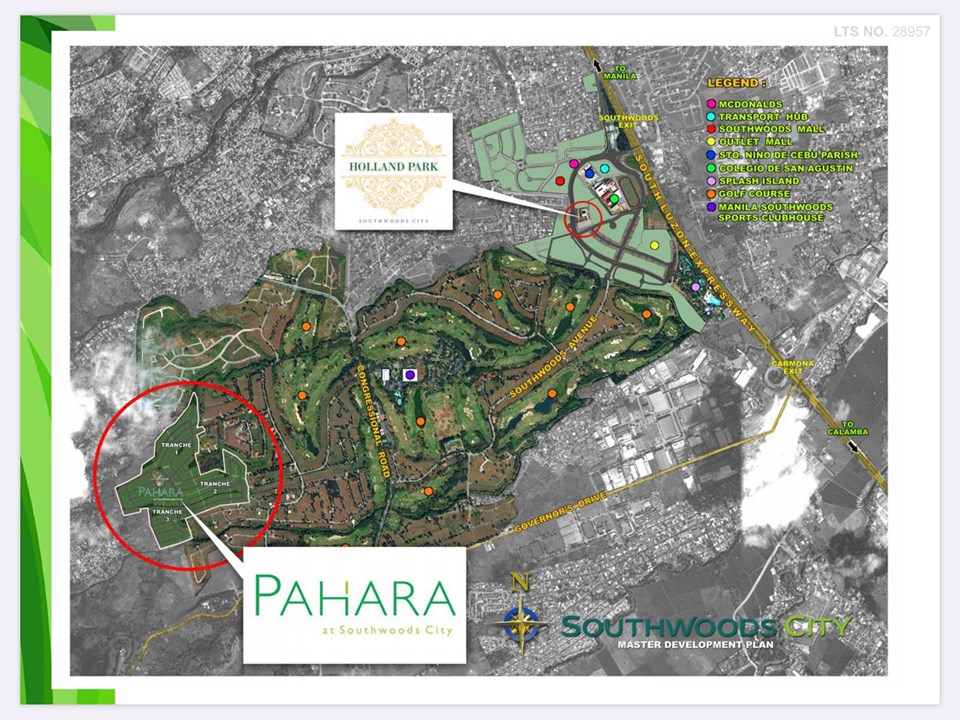 10% Spot Downpayment, 20% in 36 months, 70% Cash/Bank
5% Spot Downpayment, 15% in 12 months, 80% Cash/Bank
Promo: No Spot DP, 30% in 36 months at Aprrox. 54k monthly
Live and enjoy a balance life here at Pahara at Southwoods City where you can live, work, play, learn, and play golf providing  all the necessities for an active, well-rounded and privileged lifestyle.