Kathleen Place 5 Molino 7 Bacoor Cavite

Kathleen Place 5 boasts an elegant and modern architectural design and is meticulously crafted to provide a comfortable and functional living space for families of all sizes, using quality materials and attention to detail further enhance the overall aesthetic appeal.

Three (3) Bedrooms | Two (2) Toilet & Bath | Carport
Inner (60 sqm) | End-Unit & Corner Lot (90 sqm) 
Inner (101 sqm) End-Unit & Corner Lot (114 sqm)
Inner (4.9M) End-Unit (P7.1M) Corner Lot (P7.4M)
Preselling : Estimated Turnover After 24 months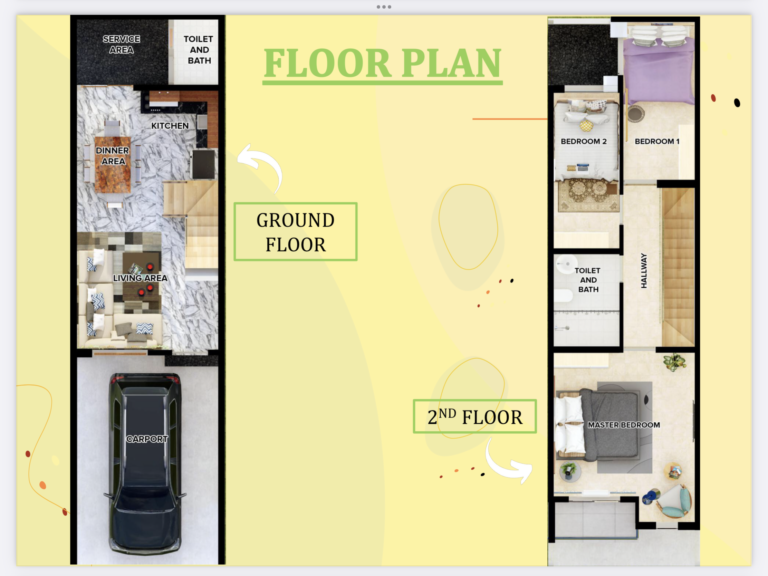 Synthetic Granite at the Ground Floor
Ceramic Tiles at the Second Floor
Ceramic Floor Tile & Glazed Wall Tiles at Toilet & Bath
Ceiling Board on Exterior Ceiling
Ceiling Board on Metal Furring for Interior Ceiling
Colored Roofing on Steel Framin
UPVC/Aluminum Window and Sliding Doors
Cast-in-Place Light Concrete Wall (6″-Exterior Wall & 4″-Interior Wall)
Steel Door on Main Entrance
Stainless Kitchen Sink on Granite Counter Top
White Bathroom Fixture
Modular Cabinets
Installed with House Feature:
3 Bedrooms with Modular Cabinet
Equipped with Telephone and Cable Outlets in Living Area
1 Car Parking Unit for Inner Unit
2 Car Parking Unit for End Unit
Steel Gate Included
Spaces:
Three (3) Bedrooms
Two (2) Toilet & Bath
Living Area
Dining Area
Kitchen Area
Utility Area
Car Garage
To enhance the living experience of its residents, Kathleen Place 5 offers a range of amenities and recreational facilities within the community. Residents can enjoy and spend quality time with loved ones in the landscaped gardens and parks, or engage in friendly sports activities at the basketball court. These amenities foster a sense of community and provide opportunities for relaxation and recreation right at your doorstep.
Clubhouse
Recreational Park
Full Basketball Court
Grand Entrance Gate
CCTV
Green-Oriented Community
Gated Community
Security and Safety:
Creating a safe and secure environment for residents is a top priority at Kathleen Place 5. The development employs 24/7 security measures, including trained personnel and CCTV surveillance systems, ensuring the safety of all residents and their properties. This peace of mind allows homeowners to focus on creating lasting memories with their families, knowing that their well-being is safeguarded.
Location and Accessibility:
One of the key factors that make Kathleen Place 5 an attractive choice is its strategic location in Molino, Bacoor, Cavite. Situated in a rapidly growing area, this development provides residents with easy access to essential establishments and amenities. Whether it's schools, hospitals, shopping centers, or transportation hubs, everything you need is within reach. Additionally, the proximity to major thoroughfares allows for convenient travel to Metro Manila and other nearby areas in the south.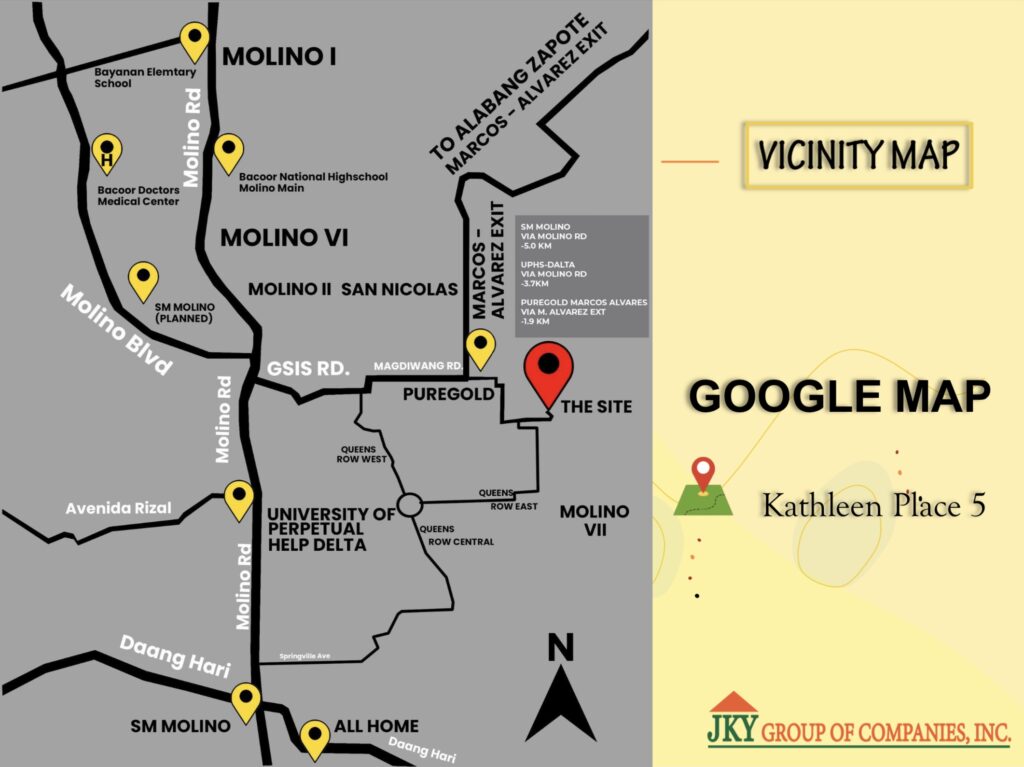 Puregold Magdiwang
OLPH- Springville
UPHS- Dalta
Southeast Asian Medical Center
SM Molino
Vista Mall SoMo
SM Bacoor

Reservation Fee : P30,000.00
Only 15 % Downpayment payable in 24 months at 0% interest.
85% Balance can be avail  either thru Bank or In-house financing.
During the preselling period, developers offer lower prices compared to the prices of completed units.
You can take advantage of these lower prices and get a better deal for your money.
Developer offer flexible payment terms up to 24 months at ZERO PERCENT INTEREST, so that you can pay for your property in installments, which can be more manageable for your budget.
Preselling house and lot offers higher potential for appreciation.
The value of your property can also increase, giving you a higher return on your investment.
Kathleen Place 5 stands as an epitome of elegant living in Molino, Bacoor, Cavite. With its thoughtful design, convenient location, and array of amenities, this preselling residential development offers a unique opportunity to own a beautiful townhouse in a thriving community.
As the demand for quality housing continues to rise, securing your dream home at Kathleen Place 5 not only ensures a comfortable and contemporary living experience but also presents a promising investment for the future. Don't miss out on the chance to be a part of this exceptional development in Cavite.